Honorary Chair, Former President of Mexico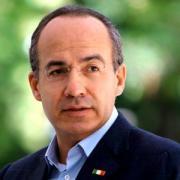 Felipe Calderón was President of Mexico from 2006 to 2012. During his presidency he prioritized the rule of law and public security; a competitive and job-creating economy; equal opportunities; sustainable development; effective democracy; and a responsible foreign policy. Among other achievement his government pushed through structural reforms to modernize the Mexican economy in key areas, such as public pensions, tax, the energy sector and universal healthcare. It also put in place the most ambitious infrastructure program in Mexican history, raising annual investment from 3 percent to 5 percent of GDP a year. During his period in office Mexico positioned itself as a global leader in fighting climate change: President Calderon presided over the successful UN climate conference in Cancun in 2010 and saw the passing of a comprehensive Climate Change Act in 2012.
Prior to becoming President Felipe Calderón served as Secretary of Energy, and General Director of BANOBRAS (the public works and infrastructure bank). He was elected to the Federal Congress in 1991, becoming Secretary-General of the PAN (National Action Party), President and Leader of the Parliamentary Group. He was earlier a Representative in the Assembly of Mexico City (1988-91). 
Felipe Calderón is Chair of the Global Commission on the Economy and Climate; President of the Sustainable Human Development Foundation; and a Member of the Board of Directors of the World Resources Institute.
Felipe Calderón has a Bachelor's degree in law, a Masters in Economics from the Instituto Tecnológico Autónomo de México; and a Masters in Public Administration from the John F Kennedy School of Government at Harvard University. He spent 2014-2015 as the Inaugural Angelopoulos Global Public Leaders Fellow at the Kennedy School.