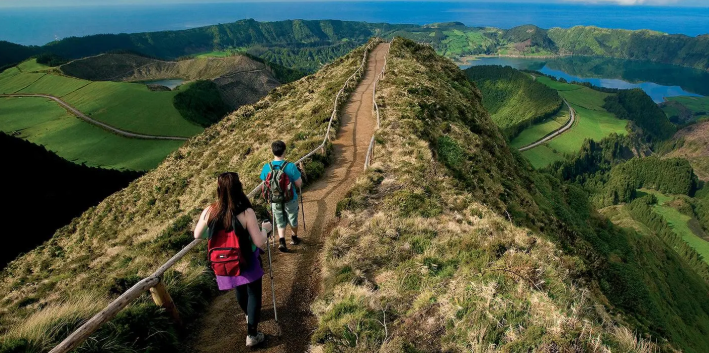 Go on holiday to a better world 
By Felipe Calderon 
This article was originally published in Travel Weekly. 
Felipe Calderon is the former president of Mexico and the honorary chair of the Global Commission on the Economy and Climate. 
Imagine going on a vacation. You take public transportation to the airport. An electric shuttle brings your luggage to the plane. You order an in-flight meal on an app before you board, reducing food waste. You board a hybrid-electric plane to your regional destination. Upon arrival, you check in to a hotel powered by renewable energy and jump in your room's water-conserving shower with refillable dispensers of soap.
The next day, you catch a train to explore a nearby village, meeting local people who benefit from tourist activities based on their sustainable management of ecosystems.
This vision of sustainable tourism is well within our reach, and there are many incentives to realize it.
Until relatively recently, international travel was a luxury accessible to few. In 1950, there were only 25 million international tourist arrivals. In 2018, there were 1.4 billion international arrivals worldwide.
Today, tourism generates about 10% of global economic activity and 10% of all employment, about 320 million jobs worldwide. As more people travel, the tourism industry is forecasted to add 100 million new jobs globally over the next 10 years. In short, travel is steadily democratizing, boosting many local and national economies in the process.
But there is a downside.
Tourism already accounts for 8% of global greenhouse gas emissions, and the industry's annual carbon footprint is growing at an annual rate of 4%.
If this continues, tourism could be responsible for 15% of emissions by 2030. And while its share of greenhouse gas emissions pales in comparison with that of energy or heavy industry, any sector growing at this pace needs to get serious about creating a sustainable growth path.
There are some encouraging signs that change is afoot. More than a dozen major companies engaged in the tourism industry have adopted or have committed to adopting science-based targets consistent with meeting the goals of the Paris Agreement on climate change.
Between 2008 and 2018, Hilton, the first major hotel company to set a science-based target, reduced emissions intensity by 34%, water use by 20% and landfill waste by 41%. Hilton isn't just cutting emissions; it's cutting costs, too, with the potential to raise its profit margins as a result.
Some actors in the aviation sector -- a major contributor to tourism emissions -- are also shifting. While international air travel isn't covered under the country commitments of the Paris climate accord, more than 190 countries have voluntarily submitted action plans to the International Civil Aviation Organization to reduce their carbon footprints through offsets and efficiency improvements.
Airlines are also gradually increasing efficiency by using currently available aircraft technology and better air traffic management systems.
Airport infrastructure is also part of the shift. Indira Gandhi Airport in New Delhi,   with 215 electric charging stations, 300 rainwater-capturing stations and energy-efficient monitor screens, recently became the first terminal in the world to receive the LEED gold rating.
These are individual examples, but their leadership is catching: The World Travel & Tourism Council, which had already set a target to reduce carbon intensity in the sector by 50% from 2005 levels by 2035, recently announced a new Sustainability Action Plan.
A major challenge to achieving a more sustainable tourism industry is resilience, or lack thereof. Many people and communities whose livelihoods depend on tourism are extremely vulnerable to the impacts of climate change.
For example, tourism accounts for 15% of the Caribbean region's GDP and over 28% of GDP in the Maldives, more than any other single industry.
Neither of these places can afford to lose this business, and yet climate change is driving rising sea levels and increasing the risk and strength of hurricanes.
These examples are stark illustrations of the global confluence of environmental and economic vulnerability. This is just one reason why we urgently need to improve infrastructure resilience and sustainability. Another reason is that the net benefit of building more climate-resilient infrastructure in low- and middle-income countries is projected to be $4.2 trillion, with $4 in benefit for each $1 invested.
The tourism industry significantly impacts climate change and will be drastically affected by it. But there is an opportunity for the industry, for tourists and for host communities to benefit from sustainable approaches to tourism.
As leaders in the tourism industry shift toward low-carbon, resilient growth, governments should take that cue to increase the ambitiousness of their own climate targets. This year will be a major test for countries' commitment to climate action. Next year, governments should update and enhance their national climate commitments to cut emissions in line with a 1.5-degree Celsius target to meet the goals of the Paris agreement.
Ultimately, the quickest path to moving tourism toward better practices lies with tourists, with us. We can and must demand better, more sustainable ways of traveling and experiencing new places -- ways that benefit local communities and protect the global environment. Half the fun of booking a holiday is in the planning, the imagining what and where. So next time you book a holiday, make sure you travel to a better world.