Commissioner; Professor, University of Cape Town; Visiting Professor, Sciences Po, Paris; Associate Fellow in the Africa Programme and Chatham House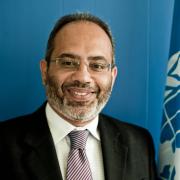 Carlos Lopes was the 8th serving Executive Secretary of the Economic Commission for Africa, an organization of the United Nations (UN) established in 1958 that has grown to become an influential think tank in the continent. His rank of UN Under Secretary General crowned a career in the organization that included being its Representative in Zimbabwe and Brazil, Director of Policy in the UN Development Programme, Executive Director of the UN Institute for Training and Research, Director of the UN Staff College, and Political Director for Secretary General Kofi Annan.
Dr. Lopes has actively contributed to research on development issues. Specialized in development and strategic planning, he has authored or edited 22 books. He has taught at universities and academic institutions across the world and has given lectures in leading universities in over 30 countries.
Affiliated with a number of academic networks, he has also helped establish various non-governmental organizations and centers for social research, particularly in Africa. He currently serves several governing boards of institutions such as the Kofi Annan Foundation, Lisbon University Institute and the Geneva Graduate Institute of International and Development Studies.
Carlos Lopes holds a PhD in History from the University of Paris 1 Panthéon-Sorbonne and a Research Master from the Geneva Graduate Institute of International and Development Studies. He has received an Honorary PhD in Social Sciences from the University of Cândido Mendes in Brazil as well as an Honorary PhD in Development Studies from the University of Hawassa in Ethiopia. He is also a lifetime member of the Lisbon Academy of Sciences.
He is currently a visiting professor at the University of Cape Town in the Faculty of Commerce and a Visiting Fellow at the Oxford Martin School.