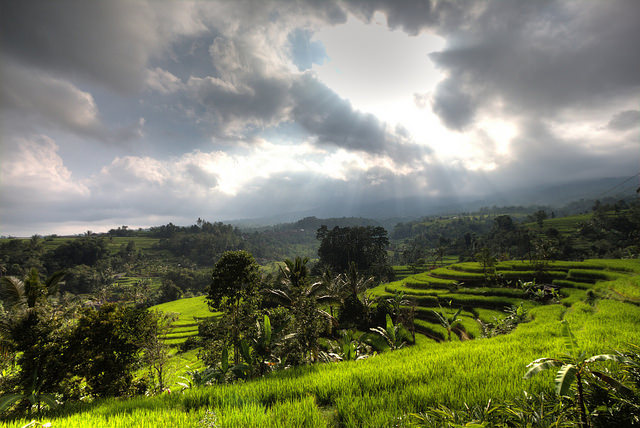 ·         Indonesia's five-year development plan to double as first Low Carbon Development Initiative.
·         Indonesian ministers and key international advisers advance project financing at COP23.
·         With fourth largest population and the fifth highest emissions, climate impact significant.
BONN (November 16, 2017) – Indonesian Planning and Development Minister and key international advisers meet today to advance efforts through which Indonesia's next five-year development plan will also become its first Low Carbon Development Initiative.
With the fourth largest population and within the top ten highest emitting countries in the world, a low carbon future in Indonesia represents better quality of life for millions and a significant contribution to the global effort to limit temperature rise to below 2oC, the goal agreed to in the Paris Agreement.
Led by BAPPENAS, the Indonesian National Development Planning Ministry, with assistance from other government agencies, the effort will provide analysis, research and recommendations, with a particular focus on the energy and land use sectors which together account for roughly 80% of the country's greenhouse gas emissions.
"The Indonesian government understands that we cannot have sustainable economic growth and lasting development gains without taking into account the impacts on climate change," said Professor Bambang Brodjonegoro, Indonesian Planning and Development Minister, BAPPENAS. "Our Low Carbon Development Initiative will be the vehicle that carries all Indonesians to a better and more prosperous future."
"The development plans countries make today will not only drive growth and poverty reduction now, they will also play a huge role in determining the health, prosperity and climate resilience of future citizens. Indonesia is setting an example of how much all countries can integrate their development and climate agendas," added Lord Nicholas Stern, IG Patel Professor of Economics and Government at the LSE and Co-Chair of the Global Commission on the Economy and Climate.
Representatives from the Global Commission on the Economy and Climate, along with other leaders from business, academia, and civil society, will exchange ideas on different national and international schemes to finance Indonesia's Low Carbon Development Initiative.
--ENDS--
Notes to Editors:
The New Climate Economy is the flagship project of the Global Commission on the Economy and Climate. It was established by seven countries: Colombia, Ethiopia, Indonesia, Norway, South Korea, Sweden and the United Kingdom, as an independent initiative to examine how countries can achieve economic growth while dealing with the risks posed by climate change. Chaired by Ngozi Okonjo-Iweala, Lord Nicholas Stern, and Paul Polman, the Commission comprises 28 leaders from 20 countries, including former heads of government and finance ministers, leading business people, investors, city mayors and economists. For more information go to www.newclimateeconomy.net
For media inquiries contact: Ferzina Banaji, ferzina.banaji@newclimateeconomy.net;  Jessica Brand, jessica.brand@newclimateeconomy.net
Photo: jekoko13/ Flickr