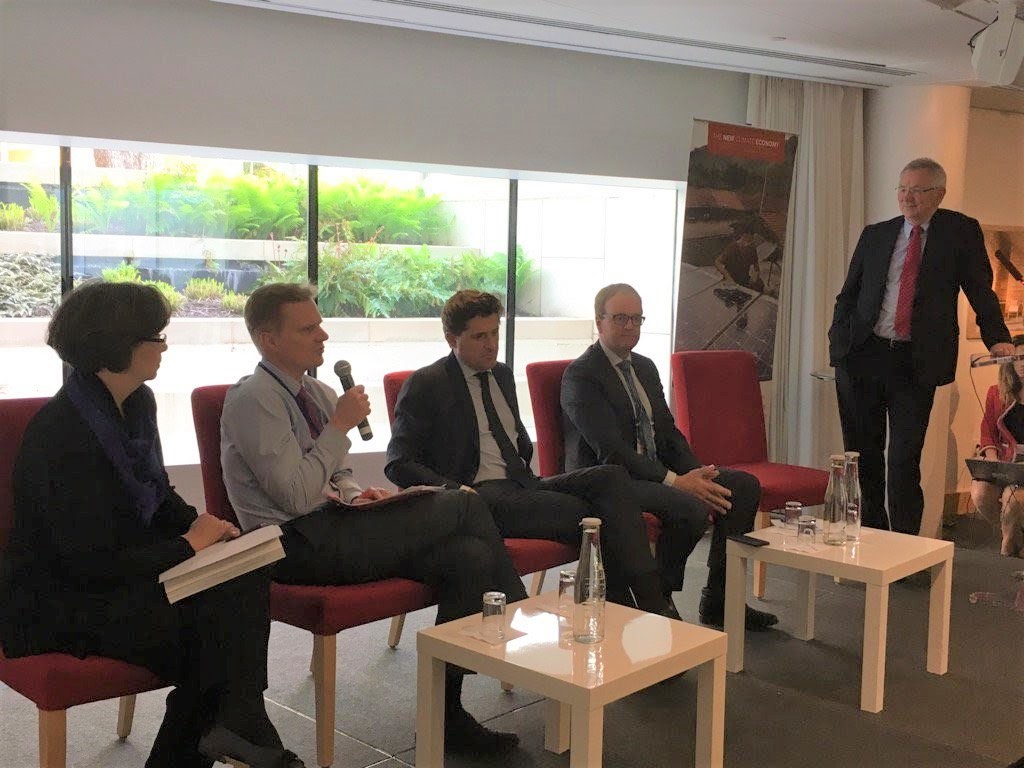 Swedish and US Business Leaders Make the Case for the Green Economy
On the sidelines of the World Bank-IMF Spring Meetings, the New Climate Economy and the Swedish Embassy in Washington DC hosted a panel on Business Opportunities for the Climate and Economy. Swedish Deputy Prime Minister Isabella Lövin and Honorary Chair of the Global Commission President Felipe Calderón gave a press briefing before the event, after which they gave keynote opening comments.
Swedish and US Business leaders spoke about why going green is in their companies' economic interest, in a panel chaired by Andrew Steer, president and CEO of the World Resources Institute. Daniel Cruise, the Global VP and Head of Europe Region at Arconic, representing the metal manufacturing industry, made the case for sustainable technologies, such as low-emission vehicles: "The good news is that even if the administration changes direction, people like their electric cars." Elizabeth Heider, the Chief Sustainability Office at Skanska, highlighted the unstoppable momentum of green business, driven by consumer demand: "Are there great opportunities for business in the low-carbon future? The answer is yes." Co-Chair of the Global Commission, Lord Nicholas Stern, gave closing comments.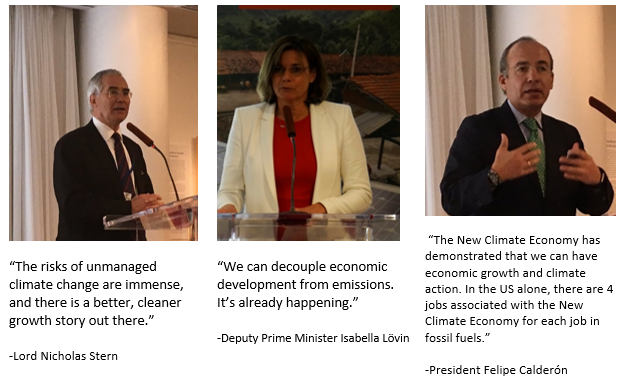 Support for the Paris Agreement, even after US Withdrawal 
In response to the United States' decision to withdraw from the Paris Agreement, Global Commissioner Felipe Calderón was one of a multitude of global leaders to push back and reiterate their support for the agreement. In a statement, he said that "by abandoning the Paris Agreement, the US could find itself left behind as the sustainable economy marches inevitably forward." A number of Commissioners and partners actively supported the Paris Agreement, both before and after U.S. withdrawal, stressing the significant economic opportunities in the green economy.
WRI Executive Vice President Manish Bapna brought the New Climate Economy message to the US Congress as a panelist at a Climate Change Roundtable for the US House Science, Space, and Technology Committee. The roundtable, hosted by Representative Eddie Bernice Johnson (D-TX), included panelists Christiana Figueres, former Executive Secretary of the UNFCCC, and David O'Sullivan, the European Union Ambassador to the United States. Bapna made the economic case for climate action: "Trump continues to perpetuate the old-fashioned view that one has to choose between economic growth and climate action. But that's a false choice."
Investing in Climate, Investing in Growth
A new report from the OECD finds that smart climate policies such as a price on carbon along with important structural reforms could increase the average economic output of G20 countries in both the short and long term, by as much as 2.8% by 2050. What's more, when factoring in the savings from avoiding climate change damage, such as from floods and hurricanes, the net increase in GDP by 2050 rises to 4.6%.
The report finds that just a 10% increase in average annual infrastructure investment will be needed between now and 2030 to be climate compatible, and this would be more than offset by fuel savings of up to US$1.6 trillion per year.

Global Commissioners Sharan Burrow, Ngozi Okonjo-Iweala, Nicholas Stern, and Jean-Pascal Tricoire were members of the Advisory Council to the report. Global Commissioners Sharan Burrow and Angel Gurría and NCE Program Director Helen Mountford participated in the report launch in late May, and it was recognized in the G20 summit communiqué in July.
Carbon Pricing Developments
It's been an exciting year for carbon pricing initiatives. On May 29th, Global Commissioner Nicolas Stern and Nobel Laureate Joseph Stiglitz launched the Report of the High-Level Commission on Carbon Prices. The Commission recommends that carbon prices be set at least US$40-80 per tonne of CO2 by 2020 and then rise to US$50-100 per tonne of CO2 by 2030 to meet the Paris Agreement targets.
And on June 20th, some the largest corporations in the world, senior Republican and Democratic former officials, and thought leaders came out to endorse a proposal for a national carbon price in the United States through the Climate Leadership Council.
According to the World Bank's Carbon Pricing Watch 2017, the number of carbon pricing initiatives implemented or scheduled has almost doubled over the past five years. This brings the total to 42 national jurisdictions and 25 sub-national jurisdictions. Colombia and Chile both implemented carbon taxes in 2017, China's national ETS will launch later this year, almost doubling the percentage of greenhouse gas emissions under carbon pricing globally, and all Canadian provinces will be required to put a price on carbon by 2018. You can now follow carbon pricing developments in real time with the World Bank Carbon Pricing Dashboard, an up-to-date interactive map.
This month, read up on Renewable Energy
Renewable Energy and Jobs Annual Review 2017, International Renewable Energy Agency
 
KEY FACTS:
Renewable energy employs 9.8 million people globally. That's a nearly twofold increase since 2012.
The number of people working in the renewables sector could reach 24 million by 2030, more than offsetting fossil-fuel job losses.
62% of these jobs are expected to be located in Asia.
Renewables 2017 Global Status Report, REN21
 
KEY FACTS:
Newly installed renewable power capacity set new records in 2016, with 161 gigawatts added, increasing the global total by almost 9%.
Investment in renewables was roughly double that in fossil fuel generating capacity.
Solar PV capacity has increased 50 times in just 10 years. It was the big winner in 2016, accounting for around 47% of total additions, followed by wind power at 34% and hydropower at 15.5%.
 
New Energy Outlook, 2017, Bloomberg New Energy Finance
 
KEY FACTS:
Almost 75% of the $10.2 trillion the world will invest in new power technology by 2040 is expected to be in renewables.
Wind and solar Power are expected to make up 48% of world's installed capacity and 34% of electricity generation by 2040, compared to 12% and 5% now.
The cost of solar-generated electricity is projected to drop another 66% by 2040. It's already at least as cheap as coal in Germany, Australia, the U.S., Spain and Italy, and by 2021, it will be cheaper than coal in China, India, Mexico, the UK and Brazil as well.