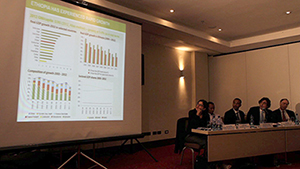 The New Climate Economy project launched in Ethiopia on Thursday the 6th of March. Minister for the Environment Ato Belete Tefere and United Kingdom Ambassador to Ethiopia Greg Dorey were joined by New Climate Economy Programme Director Jeremy Oppenheim. Over eighty participants from multilateral institutions, embassies, civil society and media in Ethiopia attended. Ethiopia is a commissioning country of the Global Commission on the Economy and Climate and its New Climate Economy project.
In his remarks, Jeremy Oppenheim highlighted Ethiopia's strong low carbon economic growth story and emphasised how the New Climate Economy could provide insight from other recently developed economies including Brazil, China and India. Minister Belete Tefere welcomed the New Climate Economy to Ethiopia and highlighted the need for "well organised and effective common action" to implement Ethiopia's ambitious Climate Resilient Green Economy Initiative.
Later Mr. Ato Dessalegen Mesfin, a former government official and executive of Eco-Economy Service PLC, highlighted the opportunity for Ethiopia to leapfrog some developed economies by deploying new technologies. He noted that the New Climate Economy "will add value to Ethiopia if it helps us move in the direction we want to go."
Firew Bekele of the Ethiopian Development Research Institute – who is leading New Climate Economy research in Ethiopia – described an ambitious programme of research that would include a focus on Ethiopia's efforts to urbanise while increasing agricultural productivity.