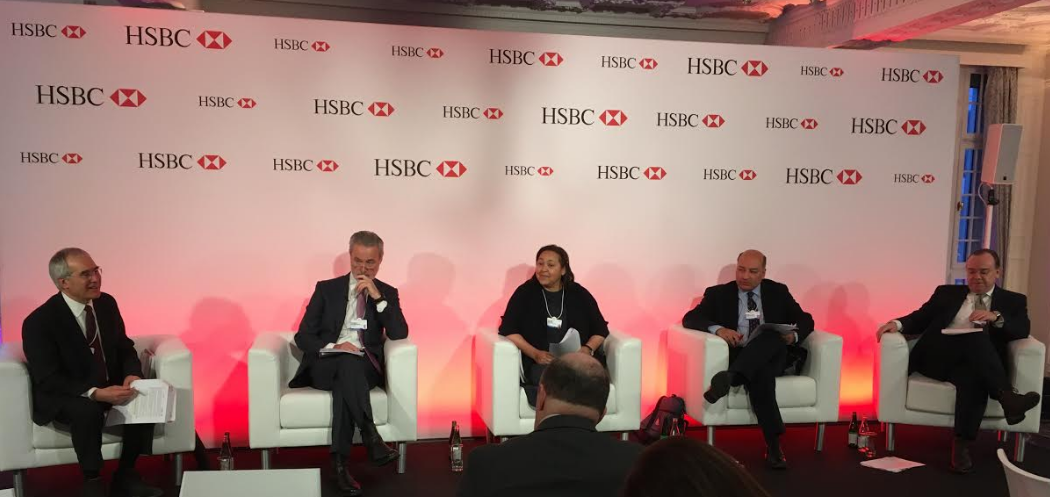 Making the case for investing in sustainable infrastructure at WEF
At the World Economic Forum's annual meeting in Davos, Switzerland, the New Climate Economy and HSBC co-sponsored a session on financing sustainable infrastructure in emerging markets. Global Commissioner Stuart Gulliver, CEO of HSBC, emphasised that "disclosure of carbon and climate risks needs to be an important consideration in the regulatory regime of finance markets." Commissioner Suma Chakrabarti, President of the European Bank for Reconstruction and Development, highlighted opportunities for political leaders to invest in sustainable infrastructure, which can boost economic growth. Frannie Leautier, the Senior Vice President of the African Development Bank, applied these principles to African cities when she underscored the "concrete, real opportunities" to transition towards "connected, compact" cities and the ability for the finance sector to support this transition.
 
As the Global Commission co-chair Lord Nicholas Stern put it: "Zero carbon is the only growth story on offer and it is enormously attractive."
 
Global Commissioners including Paul Polman, Angel Gurria, Sharan Burrow, Nicholas Stern, and Suma Chakrabarti participated in a number of events at Davos, ranging from a high level dialogue on taking carbon pricing to the next level to how the low carbon economy can be good for business, growth and society.
Headlining at Davos
"The world is looking for a climate champion. In China, it has one."
In a new Financial Times op-ed, Global Commission co-chair Lord Nicholas Stern commented on Chinese President Xi Jinping's clear commitment to the Paris Agreement through international cooperation and national investment in sustainable infrastructure. "China has recognized not only the grave risks of unmanaged climate change, to which it is very vulnerable, but also the great attractions of an alternative path for growth which is cleaner, more efficient, innovative and dynamic."

Global Commissioner Ngozi Okonjo-Iweala was interviewed at Davos by CNBC Africa and BBC; she spoke about climate change, including how it can impact health outcomes and how Africa can lead on sustainable infrastructure to deliver inclusive and low-carbon growth.

A piece by Global Commissioner Sharan Burrow was published in the Huffington Post. The piece called for strong political leadership that puts people at the heart of policies. "The global decisions of 2015 with the Sustainable Development Goals and the Paris Climate Agreement hold the promise of a zero poverty, zero carbon world. There is no shortage of money in the world to meet the needs, but political will seems to be in short supply."
African leadership in a time of climate risk
Africa is home to seven of the ten countries most threatened by climate change; the economic and social risks are enormous. The New Climate Economy contributed an issue brief to Brookings' 2017 Foresight Africa report that discusses the opportunities to address the interrelated challenges that economic development and climate risk pose to Africa. 

Stopping climate change has become an international priority, and a number of African countries are taking a leading role. Countries like Ghana, Ethiopia, Morocco, and South Africa are integrating climate change in their national development planning and implementation. The brief highlights five high-impact strategies African policy makers can use to boost economic growth while addressing climate risks:
Increase agricultural yields by intensifying production and exploring "climate-smart" techniques.
Diversify into high productivity manufacturing, particularly through sustainable production.
Encourage "compact, connected, and coordinated urban development."
Meet rapidly growing energy needs through a wealth of clean energy resources.
"Keep working on the basics," particularly gender equality and education access.
The brief was based on Africa's New Climate Economy: Economic Transformation and Social and Environmental Change.
Better Business, Better World
"Business as usual is not an option," contends the Business and Sustainable Development Commission in its new report, Better Business, Better World. The report is a call-to-action to business leaders to adopt a "socially focused business model" based on the UN's Sustainable Development Goals. It makes the case that business models that prioritise environmental sustainability and financial inclusion are the most viable for long-term economic growth. 

According to the report, achieving the Sustainable Development Goals in four sectors—food and agriculture, cities, energy and materials, and health and well-being—could open US$12 trillion of market opportunities and create 380 million new jobs by 2030.  However, if businesses continue to follow the status quo, the environmental and economic costs will be enormous, and there will likely be a popular backlash against business. Hence, the report urges business leaders to adopt the Sustainable Development Goals in their corporate strategies and to work with sector peers, policy makers, and society to build a financial system that prices carbon, attracts sustainable infrastructure investment, and regains public trust. 
Good reads for a New Climate Economy 
Green Investment Banks: Innovative Public Financial Institutions Scaling up Private, Low-carbon Investment
Over a dozen national and sub-national governments have created public green investment banks and similar entities in recent years, according to a new paper by OECD for the New Climate Economy. Green investment banks can overcome investment barriers and leverage the impact of public resources to unlock the private capital needed for low-carbon infrastructure investment.

Reaching India's Renewable Energy Targets: The Role of Institutional Investors
The renewable energy sector in India will require US$189 billion in additional investment to meet its goal of 175 gigawatts of capacity by 2022, according to a new paper by the Climate Policy Initiative for the New Climate Economy. Institutional investors have the potential to bridge this gap, but there is a need to increase their understanding of and familiarity with the renewable energy sector in India as a viable investment option.

Catalysing investment in sustainable energy infrastructure in Africa: Overcoming financial and non-financial constraints
A new paper from the Stockholm Environment Institute focuses on how to drive investment in sustainable infrastructure in Africa to meet local needs in a socially acceptable, environmentally friendly, and equitable manner. The authors use two case studies to examine these issues: natural gas infrastructure development in Tanzania and electricity infrastructure development in Zambia.