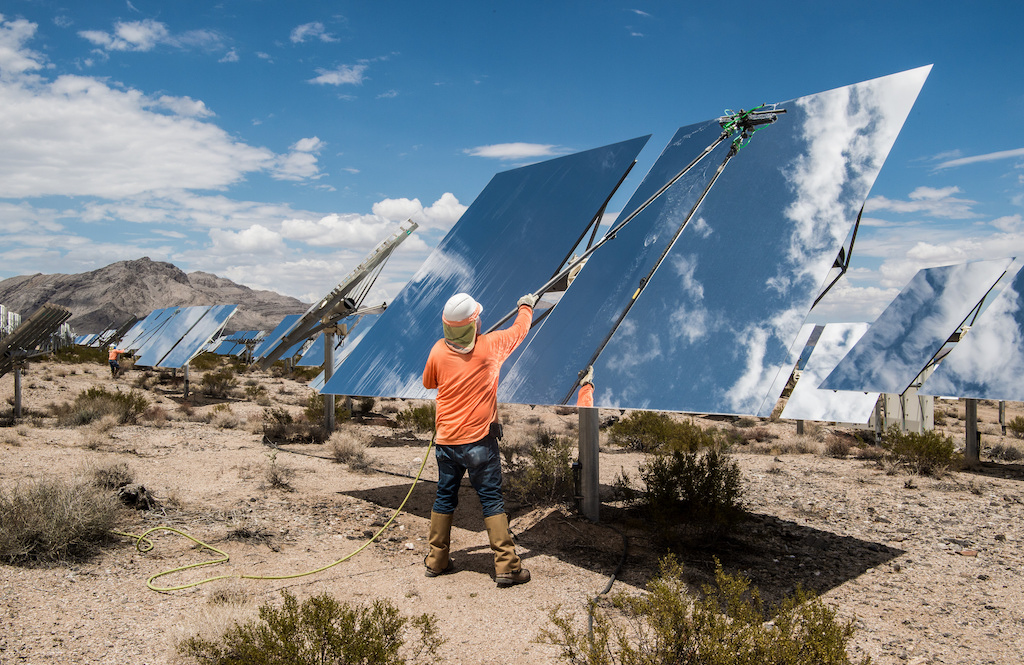 Building a future in tomorrow's green economy 
By Sharan Burrow 
This article was originally published in Reuters. 
Sharan Burrow is General Secretary of ITUC and a member of the Global Commission on the Economy and Climate. 
2018 will be remembered as the year that the climate warning hit rich countries. Temperature records have been set in Taiwan, Europe and the USA. Heat stroke has killed many people in countries including Japan, South Korea and Greece. Construction, agriculture and transport workers have suffered and even died from doing their jobs in these conditions.
The Intergovernmental Panel on Climate Change's recently released report made for a sobering read. It showed us in no uncertain terms that acting on climate isn't a choice, it's a necessity: We're already living in a world 1°C warmer than it should be, and every fraction of a degree further matters. Thankfully, the world's biggest problem is also our biggest opportunity. 
Creating a sustainable, inclusive economy will unlock multiple benefits that will improve lives and livelihoods for millions. New research from the New Climate Economy shows that bold climate action could unlock US$26 trillion in economic benefits through to 2030. It could also generate 65 million new low-carbon jobs globally in 2030, more than offsetting employment reductions in some declining sectors. Bold climate action, if done right, can also lead to an increase in women's participation in the labour force.  
Faced with the threat of runaway climate impacts and the promise of a cleaner, safer, more prosperous world, it's clear that the real choice lies not in whether but in how we act on climate. As the world shifts away from fossil fuels, will we support the people and communities who have powered our lives in the past to transition to new livelihoods and opportunities? Or will we try to resist this inevitable shift, delaying and potentially making the transition even harder and costlier?  There is undoubtedly real tension between the urgent need to curb greenhouse gas emissions and the pace at which we can expect communities and workers to adjust to a new low-carbon economy. But we can, and we must, address that tension. 
The missing link between the world moving as quickly as is required to avoid catastrophic climate impacts and keeping the social fabric of our communities intact is what we call a "just transition". In other words, society must build a bridge from where we are today to a future where jobs are green and decent, and poverty is eradicated, while communities thrive and are resilient. 
The good news is we increasingly know how to do it. This isn't about taking a running jump and hoping for the best. Building a bridge requires a planned and careful approach that includes: National and regional governments, working in partnership with industry and trade unions, to develop transition strategies; Diversification of local economies, something local universities and trade schools can play a key role in; The safeguarding of pensions and social protections that are essential for workers and their families to meet basic needs during periods of unemployment, retraining, or education; and open and transparent dialogue between government, businesses, trade unions, civil society, and communities. 
Only through real and sometimes tough dialogue can we hope to reduce fear and conflict. The Government of Canada and the Province of Alberta know this, which is why they have already established social dialogues with coal workers and communities as they work to phase-out coal. Some of Alberta's carbon price revenues have also been allocated to coal communities to further support their re-training and the economic transition. And in Uruguay, a rapid energy transition has moved the country from dependence on fossil fuel-based electricity and oil imports to having enough renewable power not only to supply over 94% of their own electricity system, but also to be able to export one third of the power they generate to Argentina. All while adhering to the International Labour Organization's guidelines for a just transition. 
Many other countries and regions – including New Zealand, Spain, Norway, Germany, and Port Augusta in Australia – are developing processes and dialogues to address these issues. And the Powering Past Coal Alliance, which consists of over 60 governments, organisations and leading businesses, has enormous potential to further support social dialogues. 
These efforts provide inspiring examples for leaders of developed and developing countries on how to take earnest and concrete steps towards ensuring a future for all people, including those displaced by new climate economy industries and businesses. And by putting COP24 in coal-rich Katowice, the Polish COP presidency has pulled this essential but unglamorous pursuit to the top of the policy agenda, where it belongs.  
We need commitments to building jobs and decent work on a living planet. We need to build trust and confidence that governments will invest in social dialogue and include the measures to ensure no one is left behind. It will take all of us.