Co-Chair, Former Finance Minister of Nigeria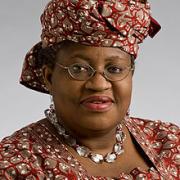 Ngozi Okonjo-Iweala is a Commissioner Emeritus of the Global Commission on the Economy and Climate and Chair of the Global Alliance for Vaccines and Immunization.
Okonjo-Iweala was the Minister of Finance for the Federal Republic of Nigeria from July 2011 to May 2015. Prior to this appointment, she was the Managing Director of the World Bank (October 2007 - July 2011). She previously held the titles of Finance Minister from July 2003 until June 2006 and Foreign Minister from June 2006 until August 2006. She is notable for being the first woman to hold either of those positions. Prior to her ministerial career in Nigeria, Okonjo-Iweala was vice-president and corporate secretary of the World Bank Group.
In October 2005, she led the Nigerian team that struck a deal with the Paris Club, a group of bilateral creditors, to pay a portion of Nigeria's external debt (US $12 billion) in return for an $18 billion debt write-off. Okonjo-Iweala also introduced the practice of publishing each state's monthly financial allocation from the federal government in the newspapers. She was instrumental in helping Nigeria obtain its first ever sovereign credit rating from Fitch and Standard & Poor's.