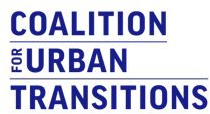 The Coalition for Urban Transitions is a fast-growing global initiative to support national governments address pressing economic, inequality and climate challenges by making their cities livable and sustainable.
It is a major collaboration between over 40 research institutes, intergovernmental organizations, investors, infrastructure providers, strategic advisory companies, NGOs and city networks.
As 2 in 3 of us are expected to live in towns and cities by 2050, countries worldwide face a crossroads - continue towards faltering productivity, public health and quality of life as urban sprawl, traffic and air pollution choke access to jobs and services, and climate shocks damage over-stretched essential infrastructure. Or join the leap to the next generation of smart shared clean transport options, green public spaces, energy efficient homes and workplaces and efficient waste management, using new financing tools to provide a springboard for national development.
At the heart of the Coalition's work is cutting edge research, analysis and policy development, led by world-class member institutions, aiming to provide robust evidence for the best policy options available to national governments, the economic benefits and consequences of action and answers to how to fill the funding gap.
Our work is driven by a commitment to support national governments end extreme poverty and deliver on their 2030 Sustainable Development Goals and to keep our planet climate safe in line with the historic 1.5 degree Paris Climate Agreement.
The Coalition is a special initiative of the New Climate Economy (NCE) and began with the cities chapter Engines of National and Global Growth of the New Climate Economy's 2014 Better Growth, Better Climate Report. It is jointly hosted and managed by the World Resources Institute (WRI) Ross Center for Sustainable Cities and the C40 Cities Climate Leadership Group (C40).