Commissioner; Former President, European Bank for Reconstruction and Development (EBRD)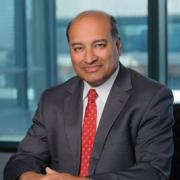 Sir Suma Chakrabarti is the Former President of the European Bank for Reconstruction and Development (EBRD).
The Bank's Board of Governors elected Sir Suma as President of the EBRD for a four year term starting July 3, 2012.
Sir Suma has extensive experience in international development economics and policy-making, as well as in designing and implementing wider public service reform.
Most recently he held the position of Permanent Secretary at the British Ministry of Justice and was its most senior civil servant. Prior to this, from 2002, he headed the UK's Department for International Development (formerly the Overseas Development Administration) where he worked closely with economies undergoing substantial reform in eastern Europe, the former Soviet Union, and the Middle East and North Africa. Sir Suma is notable for playing a key role developing the UK's successful Know-How Fund for Central and Eastern Europe and worked with the European Commission in improving its programmes in the Middle East and North Africa.
Sir Suma also worked in the late 1990s in the UK Treasury, where he was responsible for UK public expenditure, and in the early 2000s in the Cabinet Office, where he led on cross-departmental strategic issues and subsequently the management of the Cabinet agenda.
After studying Politics, Philosophy and Economics at the University of Oxford, Sir Suma earned a Masters in Development Economics at the University of Sussex. He also holds honorary doctorates from the Universities of Sussex and East Anglia and the Bucharest University of Economic Sciences.