Commissioner, Finance Minister of Indonesia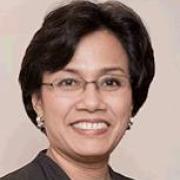 Sri Mulyani Indrawati is the current Finance Minister of Indonesia. This is her second term at this post. Most recently, she was the Managing Director and Chief Operating Officer of The World Bank.  In this role she was responsible for the Bank's operations in all regions and networks covering the thematic areas of human development, sustainable development, poverty reduction and economic management, and financial and private sector development. In addition she oversees other administrative vice presidencies and functions.   
Sri Mulyani Indrawati joined the World Bank in June 2010. Previously she served as Indonesia's Minister of Finance, in addition to being the coordinating minister of economic affairs. During that time, she successfully navigated Indonesia through the global economic crisis, and she is credited with helping to steer Indonesia through the challenging but successful transition from autocracy to democracy.
Prior to her position as finance minister Sri Mulyani Indrawati led the Indonesian National Development Planning Agency, during which time she coordinated the government and international reconstruction effort following the 2004 tsunami. Her earlier positions include Executive Director at the International Monetary Fund, faculty member at the University of Indonesia, and Visiting Professor at the Andrew Young School of Public Policy at Georgia State University. 
Sri Mulyani Indrawati holds a Ph.D. in economics from the University of Illinois and a B.A. in economics from the University of Indonesia. She has received numerous honors and awards, including Euromoney Magazine's Global Finance Minister of the Year, and Emerging Markets Best Finance Minister in Asia. She has also been regularly on Forbes List of the 100 Most Powerful Women in the world.