Commissioner; Chairman, Shell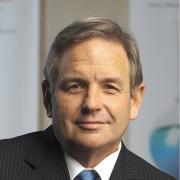 Chad Holliday is the former Chairman of the Board of Directors of Bank of America, a position he held since 2010. For eleven years until 2008 he was Chair of the Board of Directors and Chief Executive Officer of DuPont.  Under his direction, DuPont established its mission to achieve sustainable growth: increasing shareholder and societal value while decreasing the company's environmental footprint.  
Chad Holiday serves as a member of the board of directors of Deere & Co., Royal Dutch Shell and CH2MHILL.  He is Chair of the World Business Council for Sustainable Development, a global organization of 200 companies from over 30 countries, and Chair of the National Academy of Engineering, an honorary organization of over 2,000 of the most outstanding engineers in America. He is Chair of the Executive Committee of Sustainable Energy for All (SE4ALL), a joint effort of the United Nations and The World Bank to provide more efficient and renewable energy to the world with a focus on the 1.3 billion people without energy access today.  He is also Chairman Emeritus of the board of the U.S. Council on Competitiveness, a nonpartisan, nongovernmental organization working to ensure U.S. prosperity. He chaired the National Academies study at the request of the US Congress, "Research Universities and the Future of America: Ten Breakthrough Actions Vital to our Nation's Prosperity and Security".  
Chad Holliday received a bachelor's degree in industrial engineering from the University of Tennessee and honorary doctorates from Polytechnic University in Brooklyn, New York, The University of Tennessee and from Washington College.