Commissioner; Former Secretary-General, Organisation for Economic Co-operation and Development (OECD)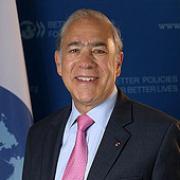 Angel Gurría is the former Secretary-General of the Organisation for Economic Co-operation and Development (OECD), a post he held between 2006-2021. Under his leadership the OECD expanded its membership and its links to major non-OECD countries, reinforcing its role as a hub for global dialogue and debate on economic policy issues. He steered the launching of a number of high profile initiatives in innovation, green growth, gender, development and skills.
Angel Gurría came to the OECD following a distinguished career in public service.  As Mexico's Minister of Foreign Affairs from 1994 to 1998, he made dialogue and consensus-building one of the hallmarks of the country's approach to global issues.  From 1998 to 2000 he was Mexico's Minister of Finance and Public Credit, in which role he steered Mexico's economy through a change of Administration without a recurrence of the financial crises that had previously dogged such changes.
Angel Gurría has participated in various international not-for-profit bodies, including the Population Council and the Center for Global Development. He chaired the International Task Force on Financing Water for All and continues to be deeply involved in water issues.  
Angel Gurría holds a B.A. degree in Economics from UNAM (Mexico), and a M.A. degree in Economics from Leeds University (UK).  A regular contributor to some of the world's leading newspapers and journals, has received awards and decorations from more than 25 countries, including the titles of Grand Officier de la Légion d'Honneur and Chevalier dans l'Ordre du Mérite Agricole, awarded by the French Government.