Former Commissioner; Deputy Governor of the Bank of England; Director of the London School of Economics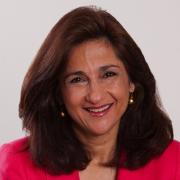 Nemat Shafik is the Deputy Governor of the Bank of England, serving on the Global Commission in a personal capacity. Previously, she was the Deputy Managing Director of the International Monetary Fund from April 2011 until June 2014, where she oversaw work on countries in Europe and the Middle East. She was also responsible for the IMF's $1 billion administrative budget, human resources for its 3,000 staff and oversees the IMF's training and technical assistance for policy makers around the world. 
Nemat Shafik was Permanent Secretary of the UK Department for International Development (DFID) from March 2008 to March 2011. She was chief executive of the department responsible for all UK development efforts including a bilateral aid programme in over 100 countries, multilateral policies and financing for the United Nations, European Union and international financial institutions, and overall development policy and research.  
Prior to being appointed to DFID in 2004, Nemat Shafik was the youngest ever Vice President at the World Bank where she was responsible for a private sector and infrastructure portfolio of investments worth about $50 billion. 
Nemat Shafik has held a number of academic appointments, at the Wharton Business School of the University of Pennsylvania and the Economics Department at Georgetown University. Nemat Shafik attained her BA in Economics and Politics from the University of Massachusetts-Amherst, her MSc in Economics from the London School of Economics, and a DPhil in Economics from St. Antony's College, Oxford University. Nemat Shafik has authored, edited, and co-authored a number of books and articles. She was named "Woman of the Year" for Global Leadership and Global Diversity in 2009.