Former Commissioner; Chairperson of the Board of Directors of Barclays Bank Mozambique; Former Prime Minister of Mozambique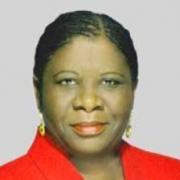 Luísa Dias Diogo was Prime Minister of Mozambique from 2004 to 2010.  From 1999-2004 she was Minister of Planning and Finance.  
Luísa Diogo graduated with a BA in economics from Eduardo Mondlane University in Maputo and went on to obtain a Master's degree in financial economics at the School of Oriental and African Studies, University of London.  She began working in Mozambique's Finance Ministry in 1980, became a department head in 1986 and in 1989 became national budget director.  After a period working for the World Bank she joined the government as Deputy Minister of Finance in 1994.  In this position she oversaw the drafting and implementation of the government's first five-year development plan following its civil war.  As Minister of Finance she focused on economic growth and reform and poverty reduction.  
As Prime Minister Luísa Diogo was widely recognized for her achievements in the national reconstruction and economic and social development of Mozambique.  She featured in both Time and Fortune magazines' lists of the most influential world leaders and in 2008 received the Prize for Women's Global Leadership.  In 2007 she was appointed Co-chair of the High Level Panel on UN Coherence in the areas of Humanitarian Aid, Development and Environment, and in 2010 was appointed a Member of the High Level Panel on UN Global Sustainability.  In this same year the Mozambican state honored her with the 2nd Degree Eduardo Mondlane Medal.  She serves as Chairperson of the Board of Barclays Bank Mozambique S.A.