News Article
December 15, 2015
Social media analytics show major positive conversation around climate action and economic growth, including most recently at COP21.
Paris/ Washington, D.C., 16 Dec 2015: Positive social media messages around climate action and economic growth have increased nearly eightfold in the past three years, according to analysis by the New Climate Economy (NCE) team using monitoring software from Crimson Hexagon. The shift is indicative of a broader change in how business leaders, investors, and governments understand the relationship between tackling climate change and economic growth, and increasingly see the two goals as mutually compatible.
The NCE team conducted analysis of over 430,000 relevant posts in English worldwide from Twitter, Facebook, blogs, and online forums spanning January 2013 until 13 December 2015 just after the conclusion of COP21 in Paris.
The analysis found that the overall number of positive messages about growth and climate action has increased by around 700%, by comparing the year and a half before June 2014 to the year and a half after. Messages from users supporting the compatibility of climate action and economic growth increased by around 1500%. At the same time, negative social media commentary – suggesting for example that climate action is too costly – has decreased by almost 15%.
"The positive shift in how people are talking about climate action and economic growth is striking," said Helen Mountford, Programme Director of the New Climate Economy. "And the change in opinion on social media is just one part of the larger story. From business leaders, to government policymakers around the world, to economists, to mayors, to the general public, there is a deepening understanding that climate action is not only necessary, but it can also be good for development and growth. This understanding is now beginning to take root and certainly contributed to the positive momentum driving the successful Paris Agreement."
Crimson Hexagon, the monitoring software used for the analysis, has also written an earlier case study on the NCE findings. These monitoring results offer interesting preliminary insights into how public understanding around climate change and economic growth has shifted, but are not a professional survey.
Graphics:
Volume of Posts about Climate Action and Economic Growth up to 13 December 2015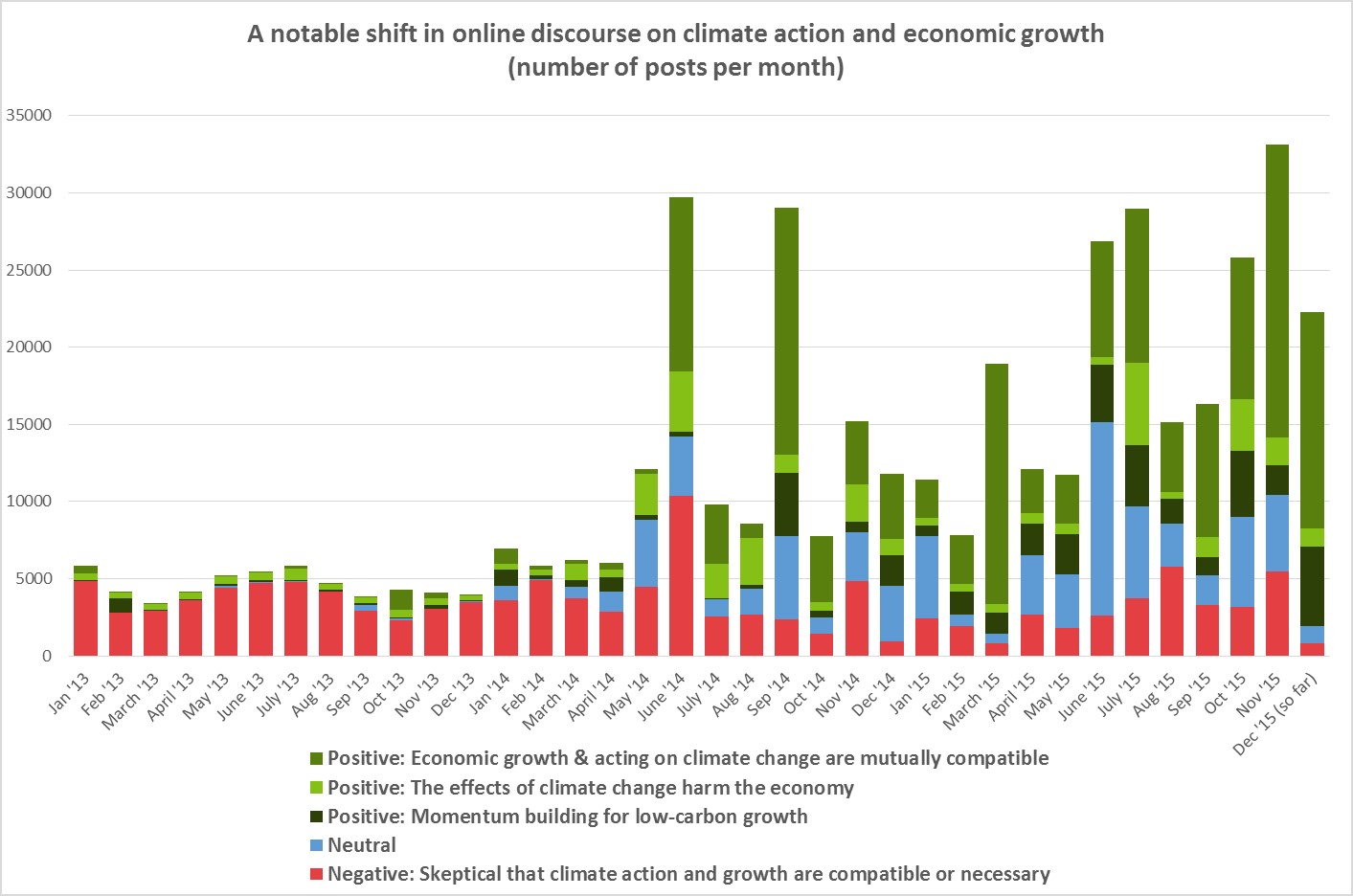 Proportion of Posts about Climate Action and Economic Growth to 13 December 2015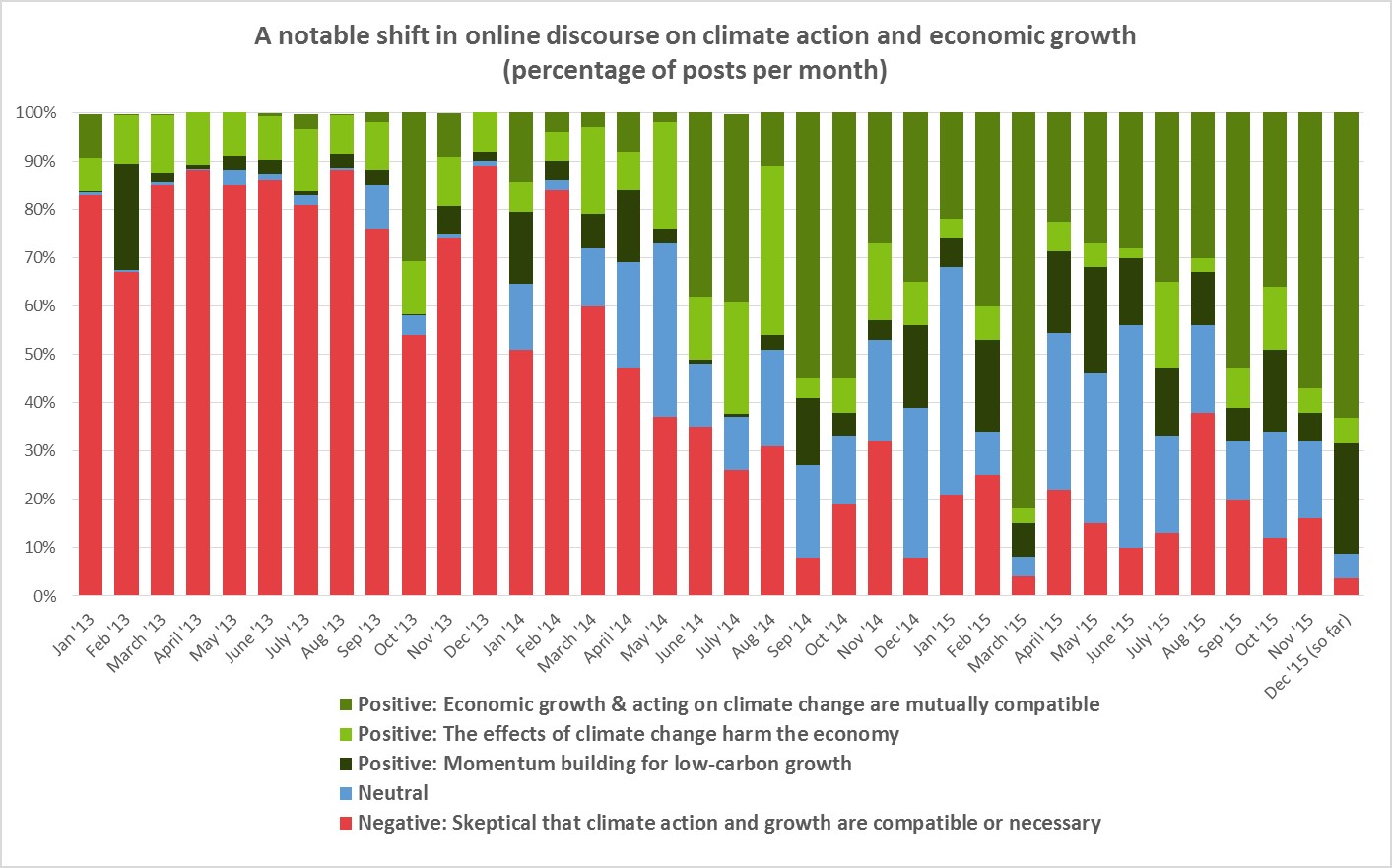 Notes to Editors:
The full list of keywords included in the analysis is as follows: climate, environment, climatechange, CO2, carbon, emissions, global warming, economy, economics, economies, growth, GDP, degrowth.
The New Climate Economy is the flagship project of the Global Commission on the Economy and Climate. It was established by seven countries: Colombia, Ethiopia, Indonesia, Norway, South Korea, Sweden and the United Kingdom, as an independent initiative to examine how countries can achieve economic growth while dealing with the risks posed by climate change. 
Chaired by former Mexican President Felipe Calderón, and co-chaired by renowned economist Lord Nicholas Stern, the Commission comprises 28 leaders from 20 countries, including former heads of government and finance ministers, leading business people, investors, city mayors and economists.
For more information go to www.newclimateeconomy.net
For media inquiries contact:
Ferzina Banaji, Ferzina.banaji@newclimateeconomy.net
Austin Morton, Austin.morton@newclimateeconomy.net
Joel Jaeger, Joel.jaeger@newclimateeconomy.net