News Article
March 25, 2014
On Saturday, March 22, the New Climate Economy launched its China research at the 2014 Annual Review of Low Carbon Development in China, hosted by its research partner Tsinghua University. Vice-Chair of the New Climate Economy (NCE) Lord Professor Nicholas Stern and Programme Director Jeremy Oppenheim attended and were introduced by Professor He Jiankun, Director, Institute of Energy, Environment and Economics. Panelists discussed how to achieve emissions reduction - peaking use of coal, dramatic increases in energy efficiency and investment in tech.
During his introduction, Professor He emphasised the importance of the timing of a peak in China's coal use and the opportunities for China to grow and innovate: "Transformation of the Chinese economy and energy system will promote carbon-dioxide emissions reduction, creating new sources of economic growth and new employment opportunities. These will improve China's technological innovation capacity and enhance business and economic competitiveness." He was encouraged by the potential of the research and added "I believe the New Climate Economy will make breakthroughs."
Professor Stern described the NCE has oriented around the interests of key decision makers, especially finance ministers. He stressed that the decisions Chinese leaders make for low carbon economic growth in the next few years will be critical for the future of China and the world. Jeremy Oppenheim, Programme Director for the NCE, emphasised the importance of this research in China during the event: "Research for the New Climate Economy project in China is a crucial part of a global effort to encourage sustainable economic growth and minimise climate risk. We are encouraged by Tsinghua's ambitious programme of research."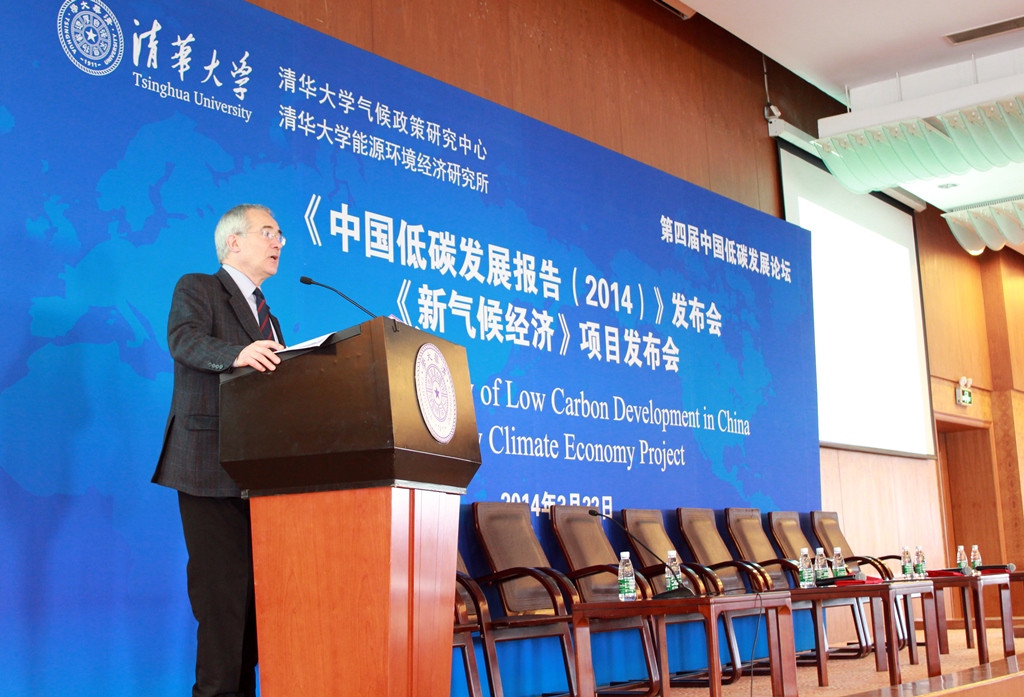 Professor Stern addresses the 2014 Annual Review of Low Carbon Development in China