Commissioner; Sustainability Chair and Past President, Federation of Indian Chambers of Commerce & Industry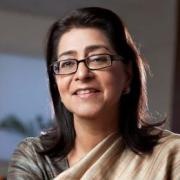 Naina Lal Kidwai is the current Sustainability Chair and Past President of the Federation of Indian Chambers of Commerce & Industry
She was the former Chairman of HSBC India and Director of HSBC Asia Pacific.
Ms. Kidwai was awarded the prestigious Green Globe Award in the sustainable business category in 2009 for her commitment to environmental sustainability. She has been repeatedly ranked in the Fortune global list of Top Women in Business.
Ms. Kidwai holds a Bachelor's degree in Economics from the University of Delhi and an MBA from Harvard Business School, where she was the first Indian woman to graduate.