Former Commissioner; Former Mayor of Houston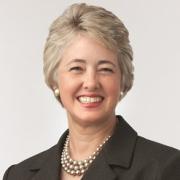 Annise Parker is Mayor of Houston, one of only two women to hold the office. She is responsible for all aspects of the general management of the city and for enforcement of all laws and ordinances. A second generation native Houstonian, she is the only person in the city's history to hold the offices of council member, controller and mayor. 
Annise Parker attended Rice University, graduating with a Bachelor of Arts Degree.  She spent 20 years working in the oil and gas industry, including 18 years with Mosbacher Energy Company. She also co-owned a retail bookstore for 10 years.
In 2010, Time magazine named Annise Parker one of the 100 most influential people in the world and she has received numerous local awards, including 2011 Guardian of the Bay Award from the Galveston Bay Foundation, Scenic Houston's 2010 Scenic Visionary Award and the 2010 Guardian of the Human Spirit Award from the Holocaust Museum in Houston.